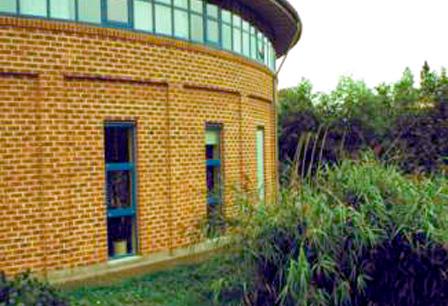 Urban ecology
Lessor Ltd. - ecological office building
A better work environment and self-sufficiency in water, heating, wastewater treatment etc.
Rootzone filter plant for treating the wastewater from the building. The water is recycled for landscape irrigation.
This construction was realized from an age-old wish on behalf of the management to have a self-contained building for the company. The company supplies salary administration systems for Danish business firms. The main idea has been to get a better working environment, independence from other tenants (reduced noise level), freedom in the indoor architectural arrangements, assurance of the capital of the company, improved expansion opportunities, more aesthetic qualities in the work environment. In the final project, a long line of indoor climate factors have been considered while a high degree of self-sufficiency was obtained, especially in terms of water and heating.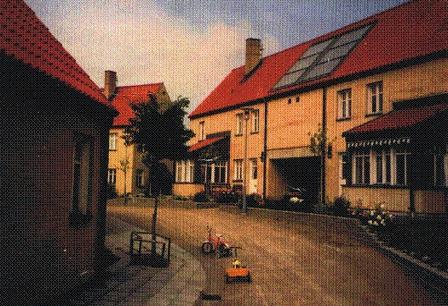 Toarp ecological village
Integrated rootzone-filter and sandfilter
Through the development of this building project, it was sought to encourage a social and environmentally sound lifestyle. To design the buildings out from local cultural and local climate conditions, to select building materials from an environmental and health considerate point of view, to use low technology for the establishment of a sound re-circulation system in the aspect of energy, resources and wastewater, to support a social atmosphere and activities by the construction of common houses and areas, and also an easy connection to official transport system. Wastewater treatment was designed for HSB Malmoe in 1992 and included rootzone / sandfilter treatment plant, aeration and water reservoir. The treated water is re-used for irrigation of crops.
Toarp village consists of 37 family houses and common houses and areas for auto-sufficient ecological vegetables. There were, in 1995, 110 habitants.

Results
The following reductions has been achieved:
COD: 88%
BOD7 > 97,6%
Total - N: 91%
Total - P: 80%
Østratorn School, Lund-Sweden
The healthy school:
· The main objective was to establish an environmentally friendly school with a good environment inside and a lower use of resources for construction and running operations.
· The second objective was to visualise the environmental aspect as a source of inspiration for the school and city's active environmental work.
1. Materials:
Reused materials:
200.000 Tiles.
35 windows.
15 window frames.
90 m3flagstones.
· Chemical reduction: Jointmass and glue is reduced to approximately 1 / 20 compared to normal buildings.
2. Water and disposal:
Separation toilettes with collection of urine and composting of faeces.
Rainwater collection for flushing toilets.
Rootzone system for treatment of grey wastewater.
Virbela Flowform and pond system for oxidation and collection of treated grey water.
3. Energy:
Bearing construction in concrete and brick wall for storage of heat.
Large window-areas for passive sun heating and sunlight.
Ground heating generated by air intake through concrete channels in basement.
Solar heaters for under-floor heating.
4. Quality and ventilation:
Natural ventilation which can be controlled individually according to needs and
season variation.
Air intake can be ground cooled during high solar influx.
Summer night cooling of the floor.
Combined sun and wind chimney to fluctuate the natural ventilation.
5. Food and waste:
Garden for vegetables
Earth basement for food storing.
Heat composting for garbage.
Waste separation.